The bike rack is a once-humble piece of kit that has evolved into a myriad of shapes, mounts and applications. For some, it is a necessary evil — something to be wrestled with from time to time to get their bike to the trailhead or bike park. For others it is a status symbol that they proudly show off on their vehicles: "I'm a cyclist…" For most though (and we count ourselves in here) it is an essential gear item to furnish the mountain-biking lifestyle — something you simply cannot go without.
With such a wealth of options on the market, we believe there are four basic things you should consider when shopping for a bike carrier: How does it mount on a vehicle, what type(s) of bike does it fit; how secure it holds your bike storage; and, crucially if you're using it on a day-to-day basis: how easy is it to load and unload your bike?
Read on to find a half-dozen of some of the best bike carriers currently available locally:
Front Runner Pro Bike Carrier

Mount: Roof rack or bakkie load bay rack.
Bikes: From road bikes to fat bikes
Price: From *R4 527
The Pro Bike Carrier from Front Runner is a highly versatile bicycle rack designed to fit everything from road, gravel and mountain bikes to e-bikes and fatties. It features a front-wheel clamp and rear-wheel ratcheting strap that were both designed for zero contact between the carrier and your bike. With the addition of an additional, proprietary accessory lock from Front Runner, your bike can be locked to the rack and, when not in use, it folds flat. In keeping with the brand's modular roof rack system, it mounts easily to Front Runner roof racks and is built off-road tough. Perhaps our favorite feature however is how easy it is to load and unload your bike. And then reload it again after a long ride…
Front Runner Pro Thru Axle Bike Carrier

Mount: Roof rack or load bay rack
Bikes: Thru-axle mountain bikes
Price: From *R635
Front Runner's all-steel Thru Axle Bike Carrier was designed to keep thru-axle mountain bikes securely mounted through rough African off-road conditions. It features a thru-axle mount for 100mm x 15mm and 110mm x 20mm axles and is compatible with 'pinch' style forks such as Fox40, Manitou Dorado and Marzocchi 380. The rear wheel holder features an adjustable ratchet buckle and strap that allows fast fitment and adjustability and can hold all wheel sizes and widths up to 4.5″ fatties.
Island Style Padded Tailgate Protector

Mount: Bakkie tailgate.
Bikes: All mountain bikes
Price: From *R1 550
This proudly South African product from trusted lifestyle accessories brand Island Style protects the tailgate flap of your truck while securely holding up to five mountain bikes. While it is the ideal carrier if you're running Saturday morning shuttles at the local DH track or transporting your and your mates' enduro machines to the trail, if you drive a bakkie it is a super easy (and affordable) solution for transporting all types of mountain bikes. It features soft polar fleece on the inside (to protect your tailgate) and a heavy-duty 550-gram waterproof external shell which protects your bike frame from scratches. The looped straps fit neatly over the downtube and offer a secure mount.
THULE EasyFold XT

Mount: Towbar
Bikes: All bikes
Price: From *R18 999
Towbar-mounted bike racks offer perhaps the biggest variety with a host of brands making great products to suit a range of budgets and applications. Most carry between one and four bikes and because they are so low to the ground making for easy mounting and unloading of bikes. Thule has long been the bicycle rack brand most others are measured by and when it comes to tow-bar mounts you can't go wrong with the Thule EasyFold XT 2. This rack is fully foldable, compact, and fits a wide range of bikes and e-bikes. It features a foldable bike loading ramp that integrates into the rack for convenient storage and your bikes can be locked to the rack with the in-built lock. On top of everything (and we appreciate this convenient mod) you still have full access to the trunk even when bikes are loaded thanks to the smart foot pedal tilt. Click here to see the Thule EasyFold in action.
Thule UpRide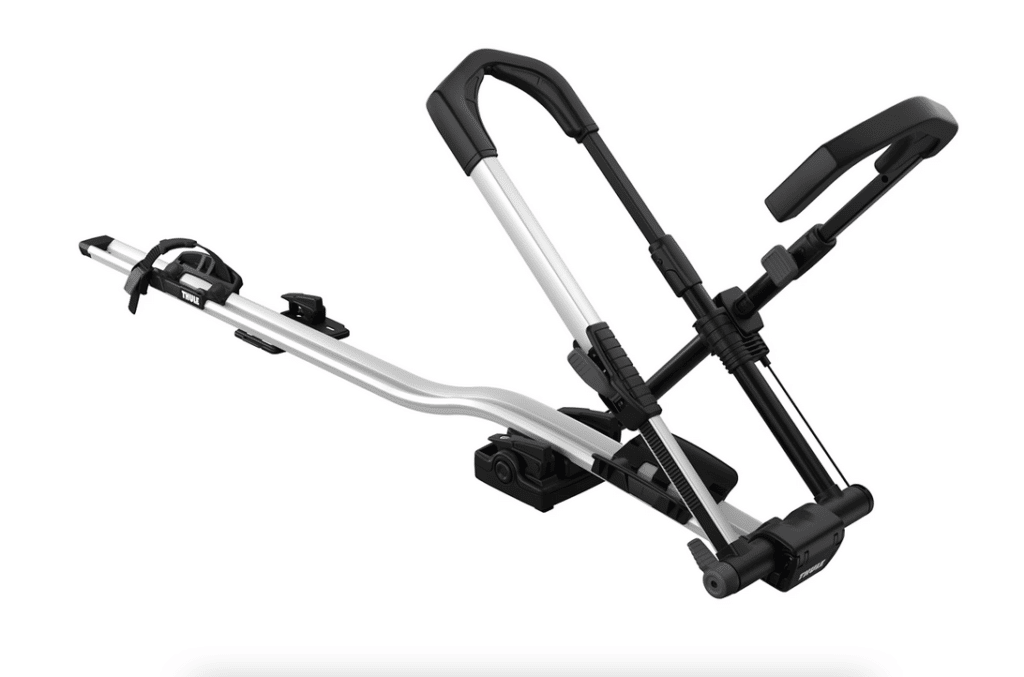 Mount: Rooftop
Bikes: All bikes
Price: *From R6 299
The Thule UpRide is a universal upright bike rack with no frame contact that offers fast mounting and maximum frame protection. It was designed to secure bikes for high-speed highway transport as well as over bumpy dirt tracks. This rack fits all types of bikes – from mountain bikes to fat bikes – without having to remove the bike's front wheel. Thanks to the in-built locking system the rack can be locked to your vehicle's roof rack, and the bike locked to the bike rack with an integrated cable lock.
Saris bones 2-bike boot rack

Mount: Car boot
Bikes: All bikes
Price: From *R3 600
When it comes to boot-mounted racks the Saris Bones is an icon. Its unique Arc-based design fits over most spoilers and separates bikes on different levels. It features injection-molded arms and legs that are said to be the strongest in class on the market. These can be adjusted easily and without tools to fit the shape of your boot and the bike mounts fit most top tube widths. The rack's rubberised feet protect your car while the coated straps won't scratch your bike frame. It's also available in a 3-bike model.
At the end of the day, form should follow function. Far from being an exhaustive list, this is rather a guide to some of the current best options within the various categories. We'll continue to update it as newer and better models become available. Also stay tuned for a full feature on 'budget bike racks' dropping soon.
*Prices were correct at time of publication, they may vary depending on stockist, current exchange rate and stock levels.