33 meters doesn't seem that far in most contexts but when it's the distance you need to fly through the air from the takeoff of a jump to reach the landing on your bicycle, it becomes very very far. The annual DarkFEST freeride mountain biking event is about to go off once again in Stellenbosch and they are extending the longest jump in the lineup to 110 feet (33.5 meters). Considering most people struggle to jump more than one bike length which is around 1.2-1.5 meters, that is incomprehensibly large. Being there in person is the best way to get a real gauge on the size of these jumps, let alone the tricks that the world's best will be throwing down on them!
We can highly recommend taking a trip out to the event on one of the open days (21st and 22nd April) to share in the stoke, have your mind blown, and rub shoulders with global free ride icons! Get all the info you need below.
Press Release: DarkFEST
The wait is finally over for extreme sports enthusiasts around the globe, as DarkFEST returns for another adrenaline-fueled edition from 17th to 22nd April 2023. The media event, which has become synonymous with massive jumps and high-octane action, promises to be bigger, bolder, and better than ever before.
DarkFEST brings together some of the world's best freeride mountain bikers to push the limits of their sport on the biggest jumps, drops and gaps ever seen. The gnarly and technical terrain at the Hellsend Dirt Compound in Stellenbosch provides the perfect backdrop for the riders to showcase their incredible skills.
The event has been a true highlight in the extreme sports calendar, with past editions garnering worldwide acclaim and thousands of enthusiastic spectators. The 2023 edition of DarkFEST promises to build upon this legacy, bringing together an even bigger and more impressive line-up of riders and bigger jumps than ever seen before.
A word from DarkFEST's creator Sam Reynolds
"We can't wait to welcome the world's best freeriders back to Stellenbosch for DarkFEST 2023, after what we witnessed last year from the girls, I definitely see them going full send next week" said Sam Reynolds, creator and organizer of the event. "Every year, we push the limits of what's possible, and the riders never fail to amaze us. We're looking forward to bringing together another incredible line-up of riders and a new speedier line that boasts a gravity defying 110ft jump to showcase the best of the sport."
First hits on the 2023 DarkFEST course
DarkFEST 2023 Men's Rider line up:
Sam Reynolds (GB)              Clemens Kaudela (AUT)                  Sam Hodgson (GB)
Kade Edwards (GB)             Kaos Seagrave (GB)                        Ike Klaassen (ZAF)
Theo Erlangsen (ZAF)           Bienvenido Aguado (ESP)               Nicholi Rogatkin (USA)
Szymon Godziek (POL)        Daniel Ruso (AUT)                             Elias Ruso (AUT)
Tom Isted (GB)                      Adolf Silva (ESP)                                Reed Boggs (USA)
Matt MacDuff (CAN)           Graham Agassiz (CAN)                   Daryl Brown (GB)
Thomas Lemoine (FRA)        Paul Couderc (FRA)                         Brett Rheeder (CAN)
Matt Jones (GB)                    Johny Salido (MX)
DarkFEST 2023 Women's Rider line up:
Vero Sandler (GB)                Casey Brown (CAN)                         Chelsea Kimball (USA)
Robin Goomes (NZ)              Vinnie Armstrong (NZ)                      Harriet Burbidge Smith (AUS)
Vea Verbeeck (CAN)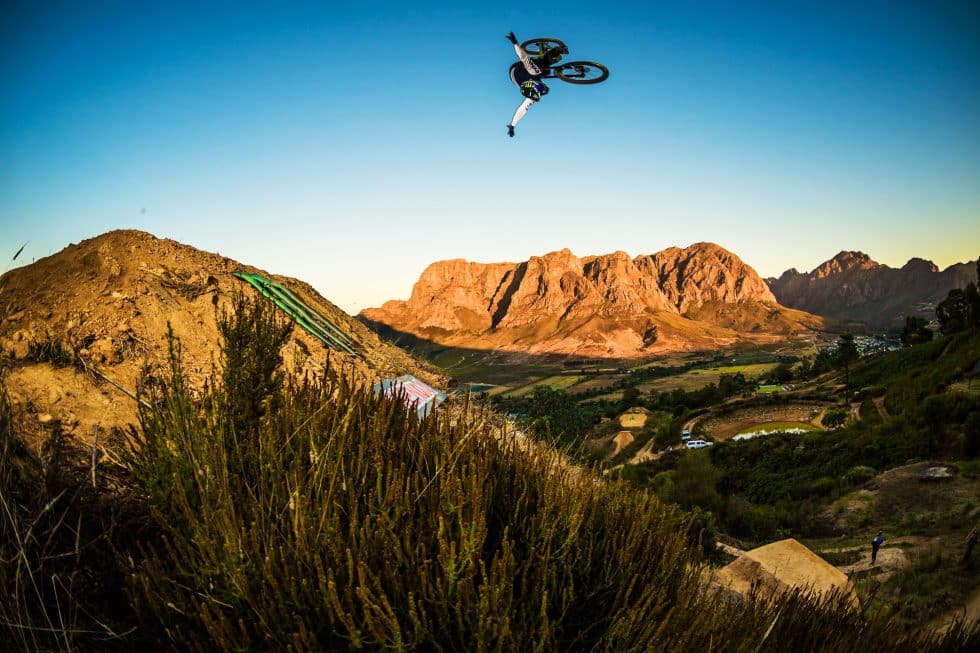 Fans of extreme sports can mark their calendars now and plan to attend what promises to be a truly electrifying event. Tickets are available on Quicket, so be sure to book your spot early to secure a seat at one of the most exciting events in the extreme sports calendar. The public will be able to access the grounds to watch their heroes in action on Friday, 21st April and Saturday, 22nd April, there will be merchandise stalls, music, access to the riders, and food and beverage on offer.
DarkFEST is more than just a media event and competition – it's a celebration of freeride mountain biking and the unique spirit that defines the sport.
Event Details:
Date:              17th April to 22nd April 2023
Venue:           Hellsend Dirt Compound, Stellenbosch, South Africa
Tickets:            https://www.quicket.co.za/events/210395-darkfest-2023/#/
Find more mountain bike event content from around South Africa here!