The final round of the 2022 UCI MTB World Cup. The curtain call on another brilliant season of racing. The last World Cup event that we will watch on Red Bull TV (for the next 8 years at least). Val di Sole is certainly a worthy location for the season finale! The tracks here are steeped in World Cup racing glory and always deliver a highly challenging environment to decide who should earn the honour of a World Cup victory. The overalls are all looking pretty well secured for Schurter, Terpstra, Pierron and Balanche but the fat lady has yet to sing and the rest of the overall podium positions are very much still in contention. Edge-of-your-seat action coming right up from Trentino, Italy!
The Standings
Minnaar could move up to 5th overall very easily with a good result here it seems with just 3 points separating him in 8th from Kolb in 5th. Hatherly sits in 4th but with a 38 points to 2nd could see himself finish in the top 4 overall. There is much to be decided in Val di Sole!
The Tracks
The Black Snake is among the most infamous of downhill tracks. Rough and rugged with no reprieve once you drop in. Greg Minnaar commented on how he nearly crashed out in the final corners during his 2021 World Champs winning run here as his arms were just so tired from the abuse. If any rider has dominated here in the past is has been Aaron Gwin with 4 wins on the track since 2011 and he has been building dangerous speed in 2022. The track drops 540m over 2.1km. Rocks and roots abound. It has been taped in such a way this year, according to riders on track, that is makes many of the lines even more difficult than before. At least there is a bit of rain expected every day this weekend. That should make it easier…not!
The Val di Sole XCO track is about as rugged as they get! With a mix of man made rock gardens, big corners and a whole lot of rough, off camber, and lumpy natural segments on track, riders will be working hard for every meter gained. The 4.3km track climbs 190m per lap. The first half being slow and technical and the second half being a bit faster and more open. The Pivot OTE boys give a good run through of it below.
Who's Riding
U23 Men XCO
Tristan Nortje
Johan van Zyl
Daniel van der Walt
Luke Moir
Kai von During
Luca Ruwiel
U23 Women XCO
Andrea Schöfmann
Elite Men XC
Alan Hatherly
Elite Women XC
Candice Lill
Elite Men DH (Quali Result)
Greg Minnaar – (23rd)
Christopher Philogene
Johann Potgieter
Niko Velasco
Theo Erlangsen (70th)
Rory Kirk
Sharjah Jonsson
Connor Finnis (54th)
Stefan Garlicki
Junior Men DH (Quali Result)
Keagan Brand (40th)
Ross Kew (20th)
Philip George van Schalkwyk (53rd)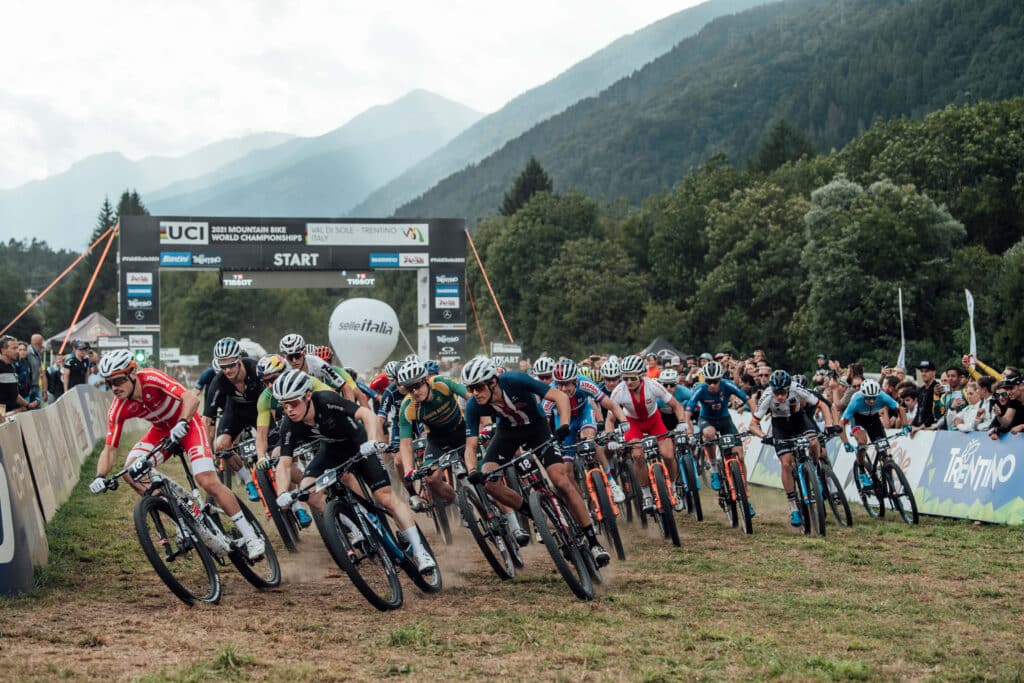 Where and When to Watch
RedBull TV will be live streaming the action and the schedule is below. The final MTB World Cup streamed by Red Bull as Discovery takes over in 2023.
Friday 2 September
XCC Elite Men and Women – 17:20
Saturday 3 September
Elite Women DH Finals – 12:25
Elite Men DH Finals – 13:45
Sunday 4 September
Elite Women XCO – 12:00
Elite Men XCO – 14:30
More Content From Val Di Sole