New Balance has just released an overhaul of their FuelCell Propel with the V4 model. We take a look at the details and share our impressions!
Picture this, you're standing in a running shoe store, holding two different shoes in your hands and looking back and forth between them. One shoe is both out of your budget and above your skill level and the other isn't quite leveling up enough. We've all been in that scenario and it's honestly quite frustrating.
Well, the latest evolution of the New Balance FuelCell Propel promises to deliver premium construction technology at an affordable price point. The Propel V4 with its slick look is coming in hot as a contender for the prized all-round running shoe with its versatility as both a trainer and racer.
In this article we're going to take a look at the details of this new shoe from New Balance, unpack the construction and technology going into it, and share some of our thoughts and first impressions of the shoe with you as well as who we think it is for. First off, let's dig into some details on the new FuelCell Propel V4.
New Balance FuelCell Propel V4 details
Overview: Daily trainer or race shoe for faster running at a great price point.
Construction: Dual FuelCell construction with a TPU plate between them in the midsole and a void beneath it to enhance energy storage and return.
Weight: Men – 289g / Women – 229g (on the lighter end of the scales but not quite a fully fledged speed or race shoe weight)
Drop: 6mm
Natural / Stability: Designed for natural runners, not a stability shoe for pronators.
Widths: D / B (standard for men and women)
Price: R2500
Differences from previous version: An extra layer of FuelCell foam, a full length TPU plate (Thermoplastic Polyurethane) which makes it significantly stiffer in the forefoot, and added rocker.
New Balance FuelCell Propel V4 construction overview
New Balance seems intent on almost completely overhauling the previous Propel in the new V4 with the changes to the midsole, forefoot, and overall aesthetic of the shoe.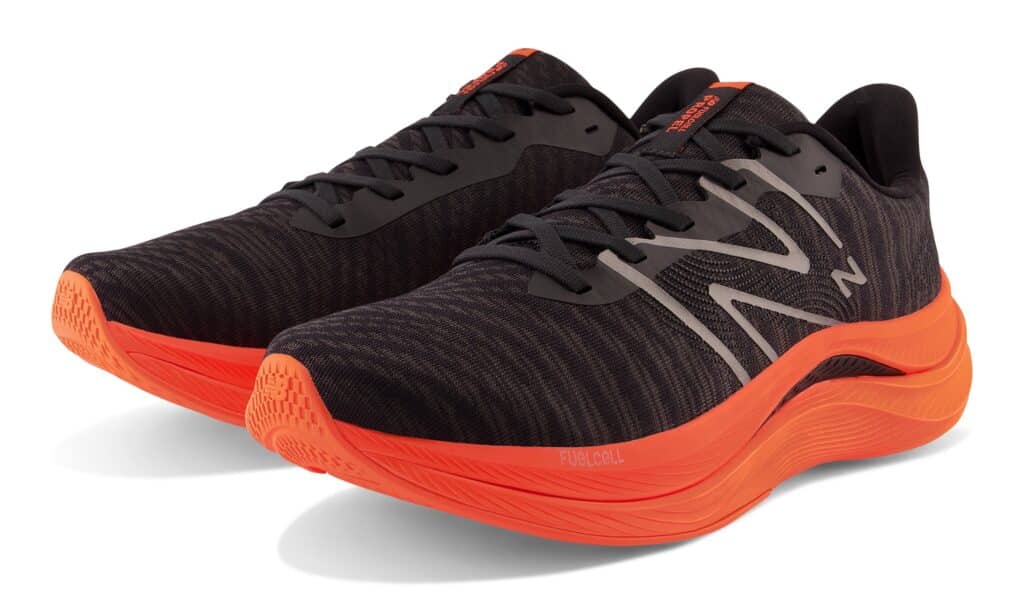 The biggest changes are the increased rocker, a TPU plate across the midsole, and a void (open space) in the midsole/outsole to complement the TPU plate (a design feature found in their elite range). So how does all of this translate to a better running experience? Let's dig a little deeper.
Construction: Midsole
The TPU plate in the V4 is wedged throughout the midsole between two layers of high-rebound FuelCell foam and can be seen on the shoe's sidewall and outsole. This makes the shoe stiffer in the forefoot, allowing for greater energy return than the V3. 
You'll also notice that there is a slightly softer feeling than the V3 with this new shoe, and this is because the FuelCell foam in the V4 is itself slightly softer than that of the V3.
As for the void in the midsole, this clever design feature helps the TPU plate transfer, store, and return energy to your stride. Essentially, the void allows the TPU plate to flex down more and then return your energy instead of having it being lost into the foam and ground. This also gives you a softer ride, as the sole has room to give way to your foot on the impact of a step instead of packing up.
As for that additional rocker in the forefoot, that ensures that the shoe rolls across the outsole more effortlessly and propels you forward into the next stride.
Construction: Upper
The upper mesh of the V4 is made of soft, light, and breathable material, with a tongue that is gusseted to ensure streamlined comfort.
All in all, the combination of these changes to the midsole and upper are going to leave you with a softer and more energetic running experience.
Our first impressions of the FuelCell Propel V4
Ever heard of the idiom, "You've got a pep in your step?" After succumbing to the sudden urge to jump around the house on one foot, I can confirm that they are indeed springy or "energetic". The shoe feels stacked and cushioned – a stark difference from my usual trail runners. They're comfortable as walking shoes though you might find yourself pacing around because of the rocker in the forefoot that seems to unconsciously drive you forward.
I have quite a narrow foot, but the shoe doesn't feel like it's either narrow or wide. They fit snugly around my foot but don't give the feeling of being restrained. The toe-box size and soft upper mesh means toe-wiggling and spreading is possible.
My first impressions after a run are mostly positive! I unintentionally and unconsciously ran faster than I had intended, with my second km being 4:35 and the rest of the run generally being much speedier than I normally like my road runs! You can definitely feel the energy return in the springiness of each stride, and overall I felt comfortable to push some distance thanks to the cushioning.
Spending more time on trails, I'm personally not used to a stacked feeling, so this would probably need another run or two to get used to, but it definitely gave me the feeling of floating when running, which makes me want to get out more in them. What more could you want than a shoe that makes you want to run in it?
Our take on the New Balance FuelCell Propel V4
The New Balance FuelCell Propel V4 is versatile and comfortable. It bridges the gap between daily trainer and racer, making it a solid option for those who want a high-performing shoe that provides an experience of elite-level technology without breaking the bank.
We really dig how this colourway hints at some of New Balance's more premium models and it's also just a great shoe to walk around in if you like having the proverbial 'pep in your step' be a reality!
Who is the FuelCell Propel V4 for?
The Propel V4 caters very well to everyday runners who want more than an entry-level shoe without the guilt of splurging on a really expensive pair.
The newest changes allow you to maximise the use of the shoe as a daily and speed work trainer but also create something that goes really well as a race day shoe. The FuelCell foam support means you'll be able to do longer mileage while the TPU plate and rocker will feel great for tempo and fartlek training sessions. The shoe will probably shine best in the 5–20 km range at both moderate and faster paces.
So if you're someone who enjoys a cushioned or soft shoe, enjoys a good heel stack, and appreciates a smooth, fast ride, then this is probably the shoe for you!
In summary the Fuel Cell Propel V4 really is a great package, and we hope you found this article helpful in getting to know it a little better!
To purchase the Fuelcell Propel V4, head over here.