If you're like me, winter running often comes with a fair bit of bargaining with myself just to get out the door. A battle of wits between me and the usual repetitive, dissuasive thoughts of, "But I am going to freeze AND get wet!" (if you're in Cape Town). Fortunately, having the right winter-friendly gear makes for a strong counter-argument when bargaining with yourself.
Picking up where our article, "Our Top 5 Winter Running Jackets To Weather The Cold" left off, we have you covered when it comes to choosing the right bottoms to pair with your winter jacket!
Running bottoms are a matter of preference; some like the racy full-length running tights alone, some take the layered approach and pop shorts on over their tights, others prefer the comfort of running in joggers, while others opt for shorts with short tights beneath. The permutations are endless; it's really all about your comfort and style.
Considerations when buying winter running bottoms
When choosing running bottoms, be it tights or joggers, here is some of our buyer's advice:
Trail or road
Running bottoms for trail require more durable materials than road running bottoms so choose accordingly.
Weather
Snow, rain, and very cold temperatures will each – or collectively – require specific features to ensure you're well protected
Tights, joggers or shorts with tights
So each their own. There are no norms for the type or combo of running bottoms you go for and the freedom of what you wear is entirely up to you and your comfort. Wearing shorts over running tights is a personal choice. Some may prefer it for 'modesty', but it doesn't provide any performance benefits. Alternatively, wearing a longer shirt may offer added coverage while keeping the tights-only functional benefits.
Once you've got a gauge of these factors, think through the additional features below before committing to the purchase. Bear in mind that you generally want to feel comfortable, move freely, stay warm, allow moisture out but not in, and get maximal utility from your gear.
Materials and design
Consider brushed fleece inner linings or merino wool if you get cold easily. If you're going to be scrambling, look out for dual-layered fabrics over the high-wearing areas. For the trails, flat seams will result in getting fewer snags as you move, while high high-viz reflectors for those on the tarmac.
Fit
First give the waistband a good feel for stretch and comfort, and then do the same for the rest of the item. There has been a move towards broader waistbands to distribute the pressure and improve the snug fit. And don't get caught out, as not all tights and joggers come with drawstrings these days. Tights range in the compression they offer, or, in other words, the "tighter" leg-feel. In this case, less is sometimes more.
Pocket game
Pockets are generally a bonus until you start getting into the ultra-elite range. Gels, keys, phone, etc. These are usually zip or stretch pockets on the upper leg or waistband, and it's always wise to double-check that your items fit before purchase.
Longevity
Following proper care instructions means your bottoms will last many winters.
Men's Road Tights
Under Armour Men's ColdGear® Base 2.0 Leggings
Price: R 999
Regular fit, lightweight, flexible, and breathable for high activity. Soft, brushed interior for colder weather with moisture-wicking. Scent Control Technology 4-way stretch construction and a performance elasticated waistband. Stretchy mesh knee panels for ventilation. Secure, zip back pocket.
Special mention: Adidas X-City Reflect at Night Tights
Price: R 1 799 – R 1 899
Description: Slim fit, elastic waist. Moisture-wicking. Back zip pocket and mesh leg pocket. And extra high-viz for tearing up the tarmac at night.
Women's Road Tights
Decathlon Kiprun Warm Women's Running Tights
Price: R 559
Made with waffle fabric, to ensure warmth and prevent a "chilling feeling while sweating". Moisture-wicking and breathable. Suited to cold temperatures below 10°C. Rear pocket with zip. Ankle zips to help get the tights on/off easily. A 2 Year warranty.
New Balance Women's Impact Run AT High Rise Tight
Price: R 1 499
Moisture-wicking with NB DRYx premium material. High rise for added coverage and comfort. Lightweight and fitted. Drawstring closure. Two hip drop-in pockets and back pockets at the waist. Stretch woven at shin for added protection and to prevent snags
Under Armour Women's UA Outrun The Cold Tights
Price: R 1 499
Dual-layer fabric with a brushed interior and a moisture wicking exterior. Water-resistant, reflective woven overlays on the thighs for added durability and protection. High-rise waistband with external drawcord. Secure, zip side pocket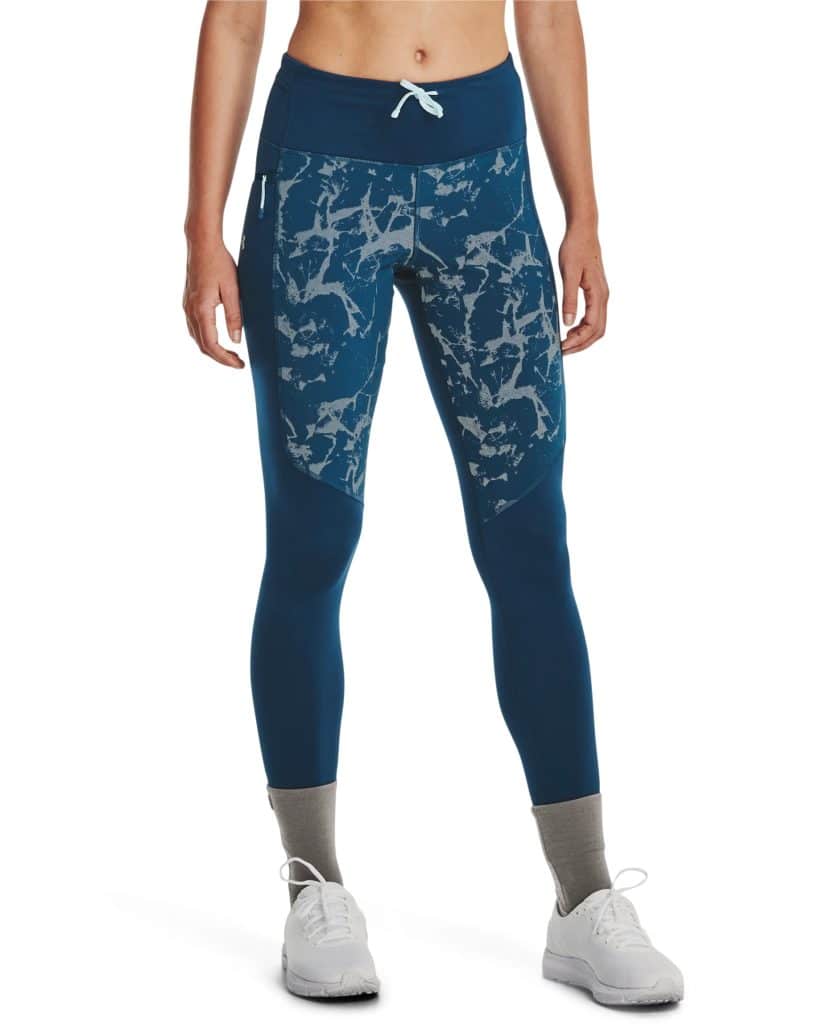 Men's Trail Tights
Price: R 929
Lightweight at just 182 g. Moisture-wicking made with recycled polyester. Adjustable waist and back hook to stow a clothing item. Woven panel on the shin area for durability. Two side pockets. Reflective branding.
First Ascent Men's X-Trail Long Running Tights
Price: R 999
Supportive. Moisture-wicking. Elasticated waist with drawcord for additional support. Mesh storage system built into the yoke. Ankle zips make them easy to slip on and off. Flatlock seaming to reduce potential chafe. Reflective trims for extra visibility. Shockcord loop to secure keys.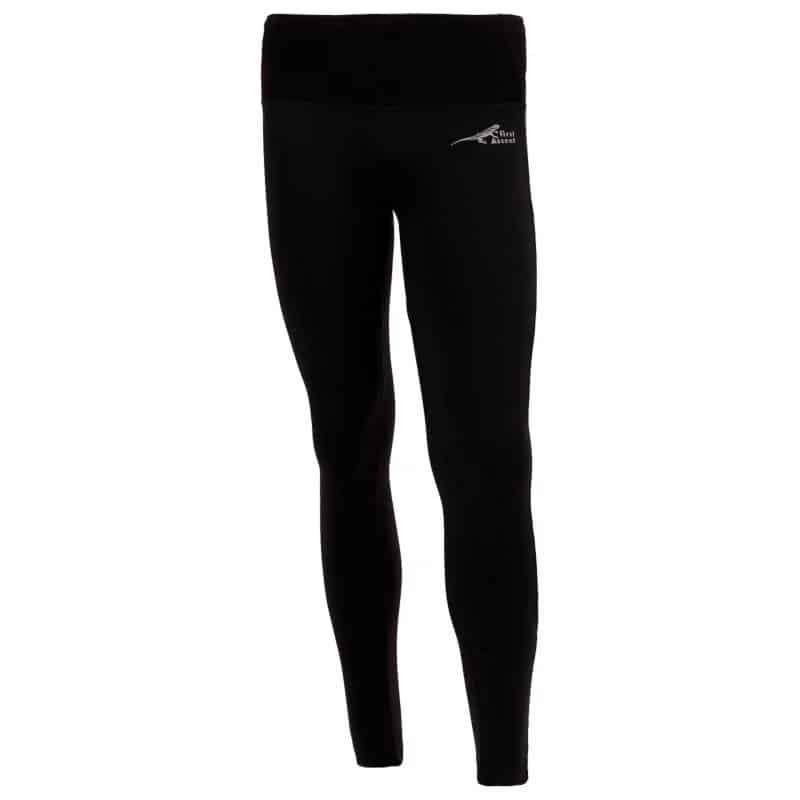 Women's Trail Tights
Decathlon Women's Trail Running Tights
Price: R 599
Breathable with rear knee meshes for perspiration ventilation. Ideal for running in temperatures between 0 and +15 degrees. Five pockets, two of which are zipped and large enough for a water flask. A large lower leg zip makes them easy to slip on/off. A 2 year warranty.
First Ascent Ladies Kinetic Running Tights
Price: R 799
Breathability with moisture-wicking. Mid Rise, flat elasticated waist. Welded rear pocke.. Reflective detailing. Flatlock seaming detail to reduce potential chafe. Extra ankle length for added warmth.
Special mention: Decathlon Women's Running Shorts with Built-in Tights
Price: R 399
Moisture-wicking. Coverage with built in shorts on top of the leggings. A rear zip pocket. Designed with no seam between the legs for maximum comfort. Wide waistband with an adjustable cord. A 2 year warranty.
Men's Joggers
Decathlon Kiprun Men's Breathable Running Trousers
Price: R 579
Lightweight. Moisture-wicking. Thermal insulation for temperatures below 15°C. Ankle zips make them easy to slip on and off. Two side pockets with zip fastening and one rear zipped pocket. A 2 year warranty.
Decathlon Men's Trail Running Waterproof Rain Trousers
Price: R 1 299
Description: Breathability and moisture wicking. Waterproof (10K) with waterproof zips and fully taped seams. Lightweight. The pants folds the back pocket for compact storage. A long zip enables you to pull off your pants without taking off your shoes. A 2 year warranty.
Special mention for shorts 'n tights: 2 in 1 for the brave
Price: R 1 099
Description: Lightweight. Stretchy inner boxer for comfort and coverage. The outer is made from quick-drying, recycled polyester. Features a rear zippered pocket with hook for stowing a clothing item.
Embrace the cold and wet season and gear up !